Χρόνος Ανάγνωσης:
8
λεπτά
Now let me get this straight from the beginning: I had an established digital newsletter diet long before the pandemic hit and internet flooded with millions of new newsletters and podcasts by white, privileged men (just like I am).
In this post I am going to talk about two things: not only what I'm reading but also how I'm reading it. As any other diet, my newsletter digital diet is a combination of carefully selected ingredients and a well-explored and optimized process – because we have oh so much free time in our lives. Read on.
Why do you want to read a newsletter?
This is a pretty good question, actually! There are several things I'm looking for in a newsletter and I will focus on a few of them:
When I'm following a personal newsletter (or a blog or a podcast for that matter) I'm always looking for original thinking and perspective. Unfortunately, one cannot live all the lives in the world, cannot enter all the minds in the world, and cannot experience everything that has ever existed. However, putting other people's content in front of your eyes can literally (pun intended) change you.Honestly, it's such a black sorcery that Internet should be forbidden in even more countries. But I digress.
Moreover, a writer normally puts a lot of work before hitting the "Send" button. Even a newsletter that does not involve a lot of original thinking (e.g. a weekly roundup) requires hours of meticulous work and preparation. The end result is more often than not an admirable piece of creativity and intelligence that offers intellectual stimulation and emotional response.
And last but not least, well, isn't this some form of entertainment? Following up with what people feel-think-do in their lives? Catching up on news? Enjoying the language and a good pun here and there? Or not?
How to subscribe to a newsletter
I love newsletters and everything on email marketing. Actually, for the last few years I am an instructor on this particular field of marketing and I totally enjoy myself.
There is something truly democratic in newsletters:
People explicitly sign up to a newsletter. This isn't something that pops in front of their screen while they are doomscrolling in the middle of the night. Email marketing should follow all the good principles of Permission Marketing (go read the scripts in Seth Godin's orignal 2008 blog post).
People are free to decide when and how they are going to consume your content. They can keep your email in their inbox, archive it, star it, delete it, mark it as spam (please don't do that), filter it or label it. They can read it right away, let it wait until a critical visit to the little girl's room or have it waiting, unread until the end of time.
People are free to unsubscribe anytime they want. No strings attached, no hard goodbyes – most of the time, no goodbyes at all. As easy as opening a can of coke, as effortless as swallowing that last Christmas almond chocolate.
Unfortunately, our species (meaning marketers) have failed users time and time again with merciless pop-ups, GDPR violations that we WILL be punished for in the afterlife, and labyrinthine user journeys to let people go.
Hey.
Just let them go.
If they don't want to stay, they shouldn't be part your audience in the first place. Get over it.
Whenever I subscribe to a new newsletter I use my personal @spytzo.gr email and not my usual @gmail.com email. This way it will be easier for me to migrate to a personal email server / client some time in the future.
I am a fast subscriber and an equally fast unsubscriber. You can always entice me with a lead magnet (that dreadful marketing torture device), but I just love signup forms which are easily accessible by everyone. Please don't put your email signup form in a pop-up and definitely don't push people to your email list – it is not only illegal and unethical, it is also purely stupid from a marketing standpoint. More importantly, always show me a clear way to opt-out.
How to read a newsletter
I use filters to automatically label and archive all incoming newsletters. That way I don't let them suffocate my inbox, I can read them in my own time, when I can focus most on them. I use a master "Newsletters" label and then let each newsletter have its own sub-label under that. So, for example, I have "Newsletters/Exponential View" and "Newsletters/Paul Jarvis".
Tip: My top-tier, must-read newsletters are labelled with a dot in front of them in order to have them appear first on the label list. So, for example, I have "Newsletters/.Future Crunch" and "Newsletters/.Scott Galloway".
Finally, I have tried Gmail, Outlook, and eM Client before reaching Thunderbird. It has really helped me navigate across multiple labels, through read and unread, plus it adds some layers of privacy by allowing me to allow/deny serving images from specific servers (a common email marketing practice for data collection). Did I mention it's open-source and part of the Mozilla family (sort of)?
Which newsletters do you follow?
Time for the actual content, folks! Mind that I don't care to present you an exhaustive list of my subscriptions – there wouldn't be much point in that.
What I want to do here is to give you a list of ideas and to promote content producers that I follow myself. If you recognize any of them, come and geek out with me in the comments!
Benedict Evans
Evans is an independent analyst that I have been following since his time at the legendary VC firm Andreessen Horowitz (a16z). Benedict's newsletter is a combination of newsworthy memos, original ideas (or at least well-repackaged ones), and data facts, all around the state of play in Big Tech, platforms, and politics of tech.
To be honest, I had stopped following his work for some time because I had got overwhelmed from our differences in the way we view the world, especially on social and political issues. However, I am proud to admit that I have resumed reading since I have acknowledged that his worldview does not pollute the admirable depth and structure of his analysis. It is always nice to keep a tab on how "the other side" thinks about big issues.
Also, excellent British English.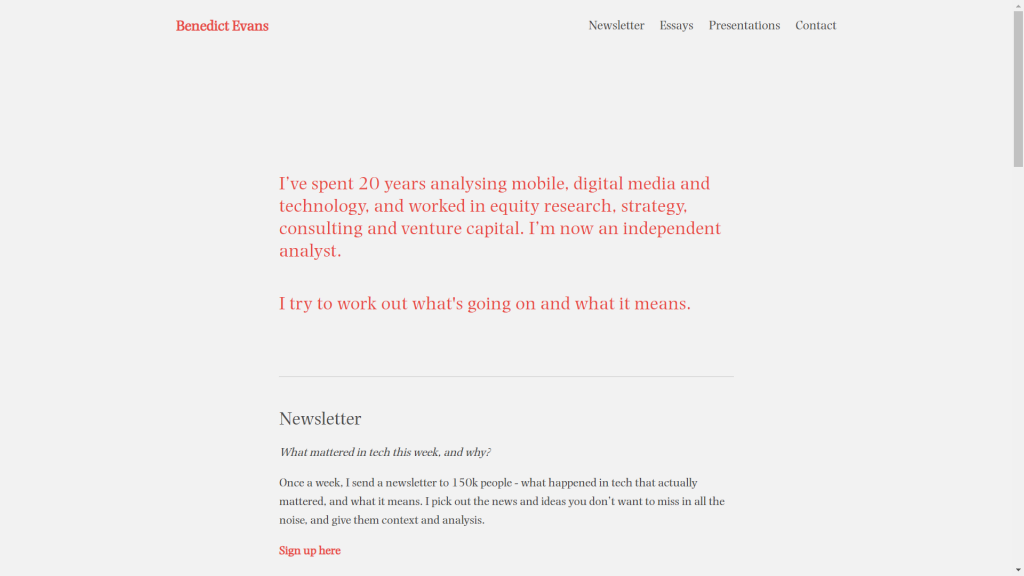 Exploding Topics
This is a review of the "Exploding Topics Tuesday" newsletter, a free and limited version of what is now Exploding Topics Pro, a premium trends discovering service.
ET, the brain child of SEO god Brian Dean's Backlinko, has me me laugh and wonder oh so many times:Have you ever been invited to a "micro wedding"? Have you ever thought on trying some "vegan collagen"? Wow about getting a "massage gun" for Christmas? These are just a few examples of upcoming topics that ET has brought into daylight for us imbeciles.
You should definitely sign up for this to keep your list of trivia up to date and, why not, spot a hidden diamond investment opportunity here and there. Ever heard of "onlyfans" or "substack"?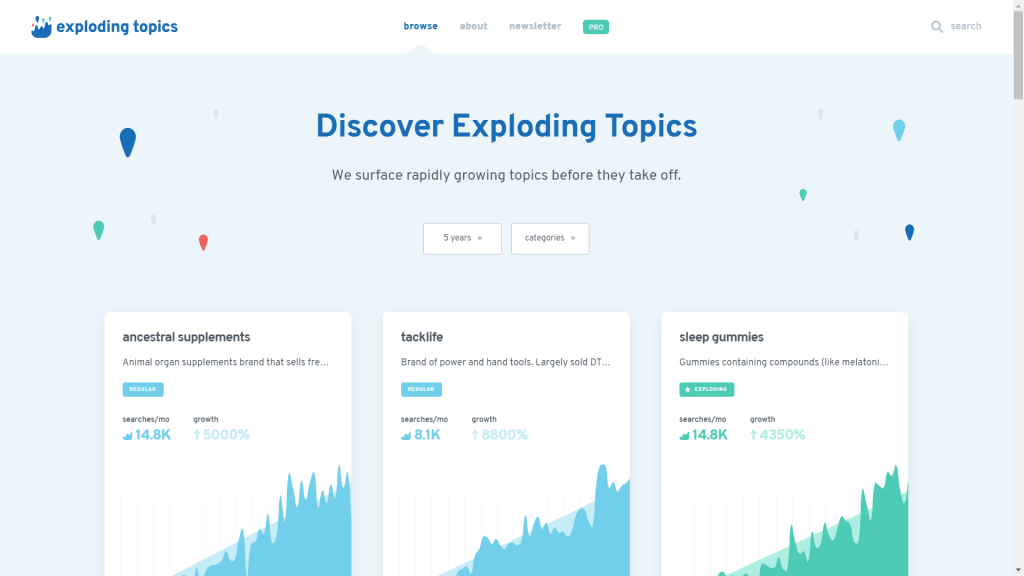 Finimize
Now here's a fact: at any given point if time there is an unread Finimize email in my inbox. Here's another one: Finimize is the absolute first newsletter I tell my email marketing students to sign up for in order to really grasp how non-boring a newsletter can be.
Reading the Finimize newsletter is like reading a daily newspaper which has everything: news about the economy, a lot of commentary, custom-made graphics that make the story shine, and an endless stream of puns. The day's big stories are broken down into three parts that helps you get the gist of it right away: "What's Going On Here?" / "What Does This Mean?" / "Why Should I Care?".
Finimize is actually bigger than this newsletter. They are building content, tools, and a community to help people understand finances and the community. I suggest you start by signing up on their free newsletter and possibly upgrade to their other products as you get along. It would be great if you could use my Finimize referral link since this will help me unlock content upgrades later on #gamification. Cheers!
Future Crunch
Future Crunch describes itself as "a weekly roundup of science, technology, and intelligent optimism" and I couldn't agree more on that.
Their newsletter is a regular injection of optimism with all the things that go right for humanity and the planet as a whole. Their core concept is that in order to change the world we need to change the tales we tell ourselves.
If you want to get a quick grasp of them, start from their latest 99 Good Stories You Probably Didn't Hear About in 2020. They have a paid version of their content and 1/3 of the proceeds go to charity, but I have read only on their free newsletter so far.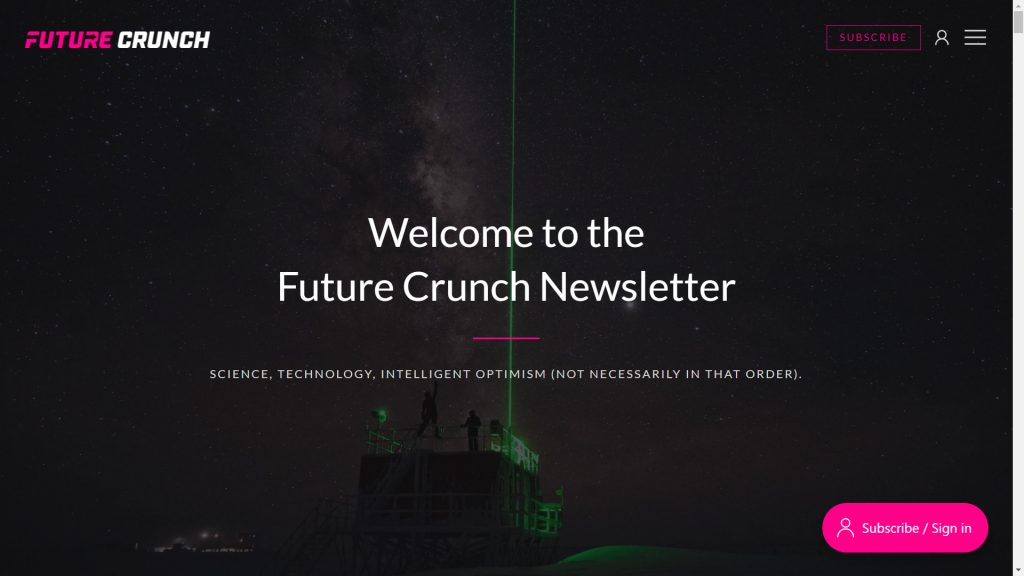 Nautilus
[to be done]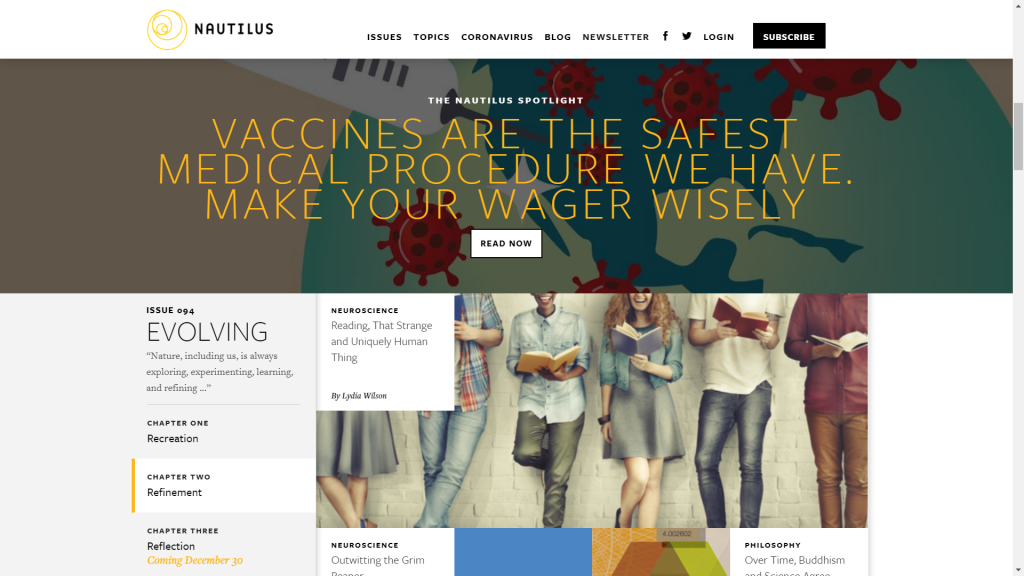 porcupine letter
[to be done]
Product Habits
https://producthabits.com/blog/
[to be done]
Protocol
[to be done]
Scott Galloway
[to be done]
Ben Thompson's Stratechery
[to be done]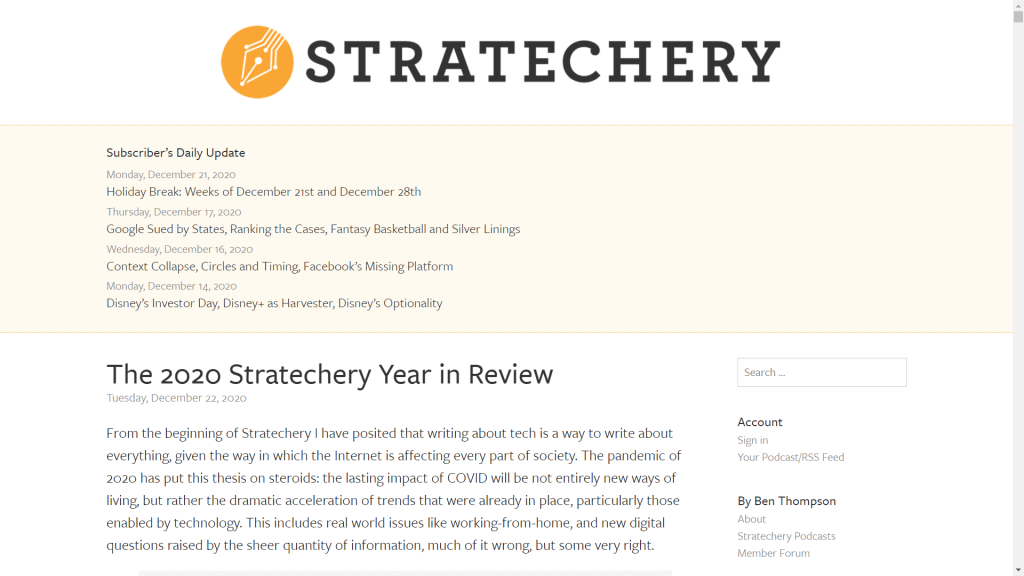 The Breeze
https://thebreeze.substack.com/
asd
asd
---
Last update: December 2020
Photo by Amador Loureiro on Unsplash